The Real History
of CloudAccess.net
CloudAccess.net is the world's premiere Internet hosting and support company for the Joomla! CMS. We are the official and exclusive host of the demo version of Joomla!, and we host and support some of the largest Joomla! sites in the world. Our mission is to help all of our clients create sites that exceed their expectations and to offer secure and private enterprise cloud solutions. Our platform, passion, and dedication is unequalled in the industry, and this is the story about how it began.
CloudAccess.net was originally formed in May, 2008 by Gary Jay Brooks under the name MichiganMedia.net. Originally established as a web design and consulting company in Indian River, Michigan. Gary ran MichiganMedia.net from a series of basements spending tiresome hours landing any project that would help support his young family and a few key contractors he wanted to employ full time. The budding company also bonded as a family and that type of supportive environment is still present throughout CloudAccess.net.
In the beginning, Gary made it a mission to do anything and everything he could to keep the valuable people he employed. Many times he sacrificed himself for the greater good of the company. He found designers, coders and graphic artists to help with projects, and he bent over backwards to find the money to pay people and to keep them inspired about the future that he envisioned for the company. Although still under the name MichiganMedia.net, this meager beginning turned out to be CloudAccess.net in its infancy.
While searching for quality people to support the mission of his start-up, Gary first met Irfan Moosani, based in India, who helped him build small sites for clients. Gary then hired a Polish web-designing firm, but the head of the company jumped ship, taking valuable start-up dollars with him. This was a setback, but good did come out of the disaster. Two employees of the Polish firm, Dominic Kucharski and Pawel Borowicz, a coder and a graphic artist respectively, saw the value in what Gary was working on and recognized him as a leader. Upset with the integrity of their employer, Dom and Pawel Borowicz left him and joined Gary's team late in 2008.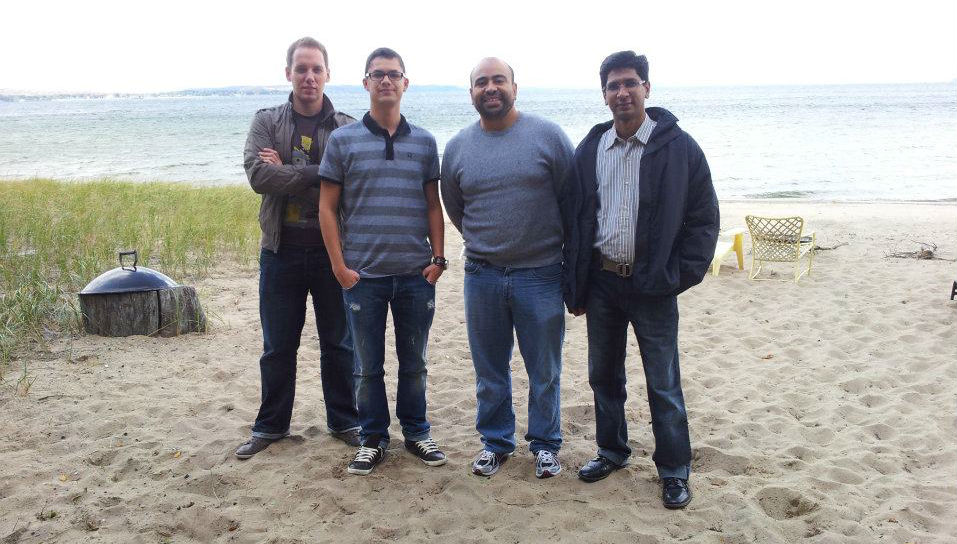 These four guys - Gary, Irfan, Dom, & Pawel - bound together to get the company off the ground. Each of them is still a member of CloudAccess.net, playing a critical role in daily operations.
MichiganMedia.net was starting to take shape and made roughly $50,000.00 in revenues its first year. 2009 started and a few major companies were signed including Hayden McNeil, a Macmillan Publishing Group. Early that year Gary was introduced to a community-based Open Source Content Management System called Joomla! He saw the value in Open Source Standards, and by the summer of 2009 Gary was active in the Joomla! community taking on leadership positions with the Joomla! Resources Directory and the Trademark Teams. As he established an email form for the Joomla! Resources Directory, complaints started streaming in about the accessibility of the Joomla! demo trial. The demo version of Joomla! was highly inaccessible, and Brooks saw an opportunity. His realization would change the course of his start-up and the way the world could access the Joomla! CMS.
In the summer of 2009, Gary requested a meeting with some of the members of Open Source Matters (OSM), the nonprofit organization that supports and oversees the Joomla! Project. The initial meeting was with Wilco Jensen, a founder of Joomla! community, and Gary was later introduced to Elin Waring, the then President of Open Source Matters, at a developer conference. Gary was adamant about what he envisioned: a point-and-click process that put Joomla! in the hands of users around the world instantly. Gary saw the possibilities, and OSM was starting to listen.
Gary first presented his idea to the Board of Directors of OSM in a formal, written request. The Board agreed that the demo version needed help, and they loved Gary's idea, but they turned him down. At the time, they didn't have a protocol for awarding such a large contract; they had no real relationships with any outside businesses. OSM developed a request for proposals (RFP) process, and informed Brooks that the opportunity to host the demo version of Joomla! would be made public. He would have to apply like everyone else. On Wednesday, November 18, 2009, OSM officially published the RFP.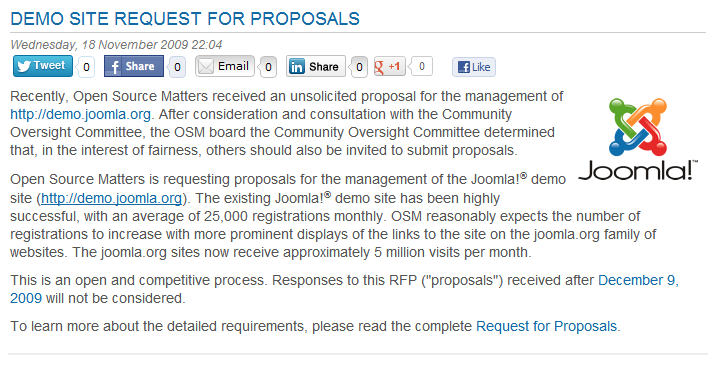 By that time, Gary realized that his company was starting to take global shape, and he responded by changing the company's name from MichiganMedia.net to what is now known throughout the world as CloudAccess.net. As the first action under the new name CloudAccess.net, Gary submitted his proposal to OSM. After a lengthy process to determine the most suitable host for the demo site, CloudAccess.net LLC, was chosen to be the official and exclusive host of demo.joomla.org on Monday, April 5, 2010. He later found out that CloudAccess.net beat out companies like Go Daddy and Siteground to win the the contract. Gary's start-up now had the ability to launch and host individual 30 day trials of the Joomla! software for users all over the world. CloudAccess.net was the only commercial organization to have a real relationship with the Joomla! Project.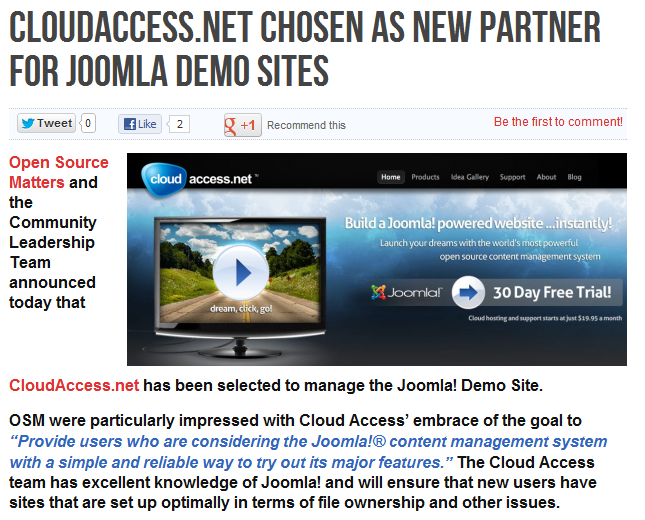 Getting demo.joomla.org up and running didn't come without a few trials. Once the demo site was built, the team faced the domain towards their servers with a lot of excitement, and in late April of 2010, the demo site was turned on. There was a rush of exhilaration as they watched for the first person to sign up. No more than ten seconds after making the site active, someone registered. Then another, and another, and another, and within the first month, tens of thousands of people had registered for demo sites. Traffic was coming in so fast that they quickly realized that the initial server setup could not sustain all the leads. On May 29, 2010, only one month into the operation, CloudAccess.net made the difficult decision to shut down the site in order to configure a specially-designed server to host demo Joomla! sites.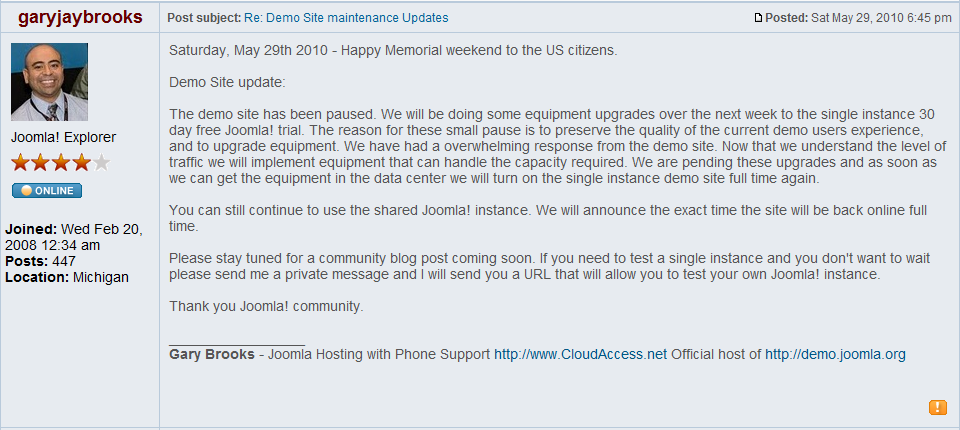 Gary had to go back to Elin Waring and OSM to explain why they needed to pause the demo site in order to configure servers to handle the load effectively. With little revenue, Brooks began a mission to raise enough money for the servers. He purchased Dell servers and decided to keep them locally in Northern Michigan. He rented a small office space just off the Grand Traverse Bay, made a deal with a local ISP to bring a 10 G Internet connection into the same building, and started assembling the servers. After the server cluster was built and tested, demo.joomla.org was turned back on in Traverse City, Michigan. Traffic picked back up immediately. The month of downtime was not fun, and there were a few tense moments, but registrations have been solid ever since the site was turned back on.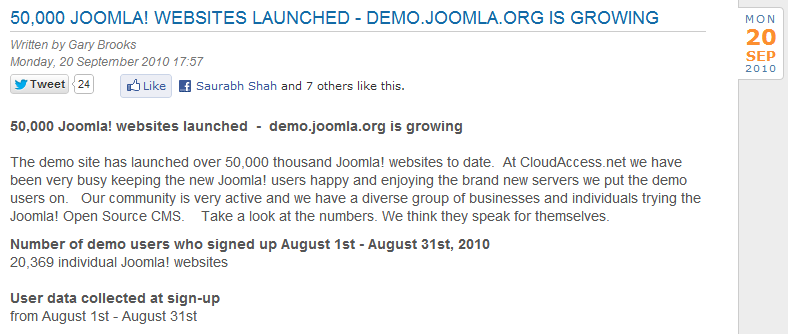 It was around this same time, in the summer of 2010, that Gary was reunited with a childhood friend, Charlie Hague, who was in Traverse City laying the groundwork for his own business venture. Gary and Charlie grew up together in East Jordan, Michigan, and after high school Charlie received a degree in business administration and gained experience working for various financial institutions around the country. Charlie was on the verge of launching his own Internet-based business when he learned about what Gary was doing and joined the CloudAccess.net team.
With Charlie on board as business manager and CFO the company gained strength and organization, and the influx of new Joomla! users required support. The team started to expand dramatically as a result. Gary searched locally and abroad for team members that believed in and furthered the company's mission. He hired support personnel, platform developers, programmers, billing and salespeople, server technicians, front end and back end coders, engineers, project managers, writers, and teachers. CloudAccess.net has expanded to 30 employees with headquarters in Traverse City, Michigan, an office in Cheboygan, Michigan, an office in Ahmedabad, India, and an office in Szczecin, Poland. CloudAccess.net serves approximately 25,000 new customers every month. The service has expanded from web design and consulting into managed Joomla! hosting and support with a professional web-development team, free & live instructional webinars, and a complete knowledgebase of how-to documentation and videos. CloudAccess.net has also attracted many enterprise clients and Fortune 500 companies as they expand into the dedicated server market. Coming to market soon are secure, compliant, private cloud servers based on pure memory and built with fiber connections. These products will revolutionize the hosting industry.
Many milestones have been marked along the way, and CloudAccess.net continues to grow, adapt, and look toward the future. Based on the conservative estimates, the future is bright. Since becoming the only company on the web to offer enterprise-level cloud servers specifically configured for hosting Joomla! sites, and since putting together a team to teach and support Joomla! applications, CloudAccess.net has become the world's flagship hosting company for the Joomla! CMS.

The CloudAccess.net is headquartered at 10850 E. Traverse Hwy, Suite 4480, Traverse City, MI, 49684.